What is Colour Festival?

With roots in ancient India, Colour Festival is a joyful reminder to cast away bad feelings and throw worries to the wind. Join the throngs of people laughing, playing, dancing, eating, and filling the sky with clouds of bright colour. Now we're bringing it Thunder Bay so that YOU can experience this transformative celebration of colour, music, and culture. With an incredible line-up of live musicians, dancers, yoga instructors, and more, Colour Festival is an unforgettable experience that will help you re-center your life on what matters most, and create memories to last a lifetime.
The colours used are plant-based, non-toxic, and environmentally-friendly. Made from food-grade cornstarch, you could even eat them (not that we suggest that!).
We have assorted colours (violet, green, pink, yellow, red, chrome, light green, sky blue) in 100 gram bags.
They are made from Corn starch, permissible cosmetic grade dyes, & fragrance.
Colours Will not harm grass.
If a large crowd throws the colours on grass, blow the grass with a leaf blower, & turn on the sprinkler system.
Colours are Least likely to stain hair and clothes if the maximum amount is shaken out dry before showering or washing.
Caution
– Do not throw powders directly into anyone's face.
Sprinkle or stroke them on with fingertips.
Anyone with breathing issues should stay away from the thick of the dust, wear a dust mask, or avoid altogether.
Even for those without breathing issues eyewear and dust protection is never a bad idea.Wherever children are present, adults should monitor, as the children can get overexcited and throw into each other faces.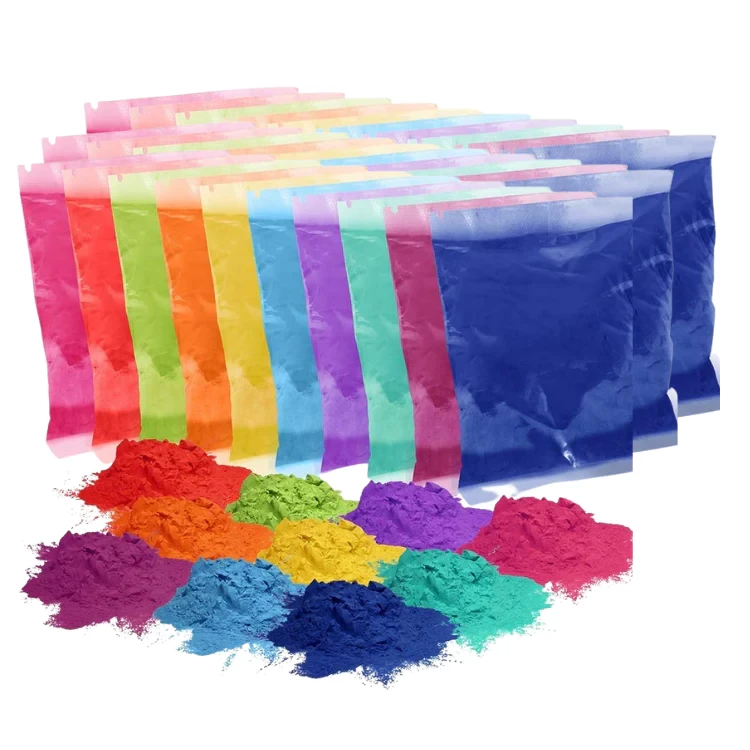 In India, the Festival of Colours (Holi) announces the arrival of spring and the passing of winter. The festival breathes an atmosphere of joy and love. People embrace each other in a spirit of reconciliation, forgiveness, and gratitude. Every nook and corner presents a colourful sight: young and old alike covered in colour, singing, dancing, and laughing together. Holi has long traditional links with several legends.